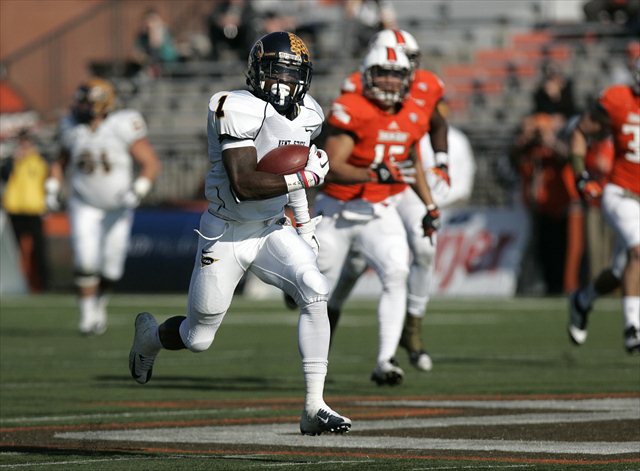 Dri Archer further staked his claim for All-American honors vs. Bowling Green. (US Presswire)
KENT STATE WON. Coming into 2012, the Golden Flashes hadn't been ranked since 1973, hadn't had a winning season since 2001, hadn't been to a single bowl since the FBS-FCS split, and (it goes without saying) had never appeared in the MAC Championship Game or won the MAC as an FBS program. Coming into their Saturday game against Bowling Green, Kent State was ranked No. 25, had already cleared most of those hurdles but needed to beat the Falcons to have a shot at that MAC crown. Behind two electrifying 70-plus-yard touchdown runs from Dri Archer and a late score from quarterback Spencer Keith, they got it done on the road. Bowling Green quarterback Matt Schilz threw for 355 yards but was intercepted on fourth-and-12 from the Kent State 17-yard line with under a minute left.
Darrell Hazell won't win any national Coach of the Year awards. But given the Flashes' sorry history, there's no question he should receive a healthy share of votes.
WHY KENT STATE WON: Because they had the two best players on the field. Defensive tackle Roosevelt Nix was the known quantity coming into this season and once again showed why he has been the MAC's highest-impact defender for years running, deflecting a Schilz pass and forcing the interception that led to Keith's game-winning short field score. But even Nix has seen his star outshone this season by Archer, who entered the game No. 3 in the nation in all-purpose yardage and lived up to that billing and then some -- even with the Falcons giving up acres of field position when kicking away from him on kickoffs and punts. The junior carried 18 times for 242 yards, scoring on a 79-yard sprint in the first half and an even more critical -- and more impressive -- weaving, darting 74-yard run to start the fourth quarter after the Falcons had taken a 24-17 lead.
The Falcons had a star of their own in receiver Chris Gallon, who finished with 213 yards receiving and two long touchdowns. (Even with the two best defenses in the league, it was a MAC kind of game.) But the Flashes having game-changers on both sides of the ball was ultimately too much for BGSU to overcome.
WHEN KENT STATE WON: Not until Schilz's desperate heave on that final fourth-and-12 play was picked off by Kent State's Luke Wollet with less than 30 seconds to play. 
WHAT KENT STATE WON: The MAC East -- the Golden Flashes have clinched their berth in Detroit opposite West champion Northern Illinois for the MAC title game. As if that wasn't reward enough, the win improves Kent's overall record to 10-1 ... not bad for a team that would have been happy to simply end their bowl drought. (The Flashes nonetheless have to be kicking themselves over their no-show at Kentucky back in Week 2. A win over the Wildcats that day, and they'd be in the BCS discussion.)
WHAT BOWLING GREEN LOST: At 7-4, Dave Clawsen's team will go to a bowl game and have to be satisfied with their season. But any chance of being giddy over their season ended Saturday.