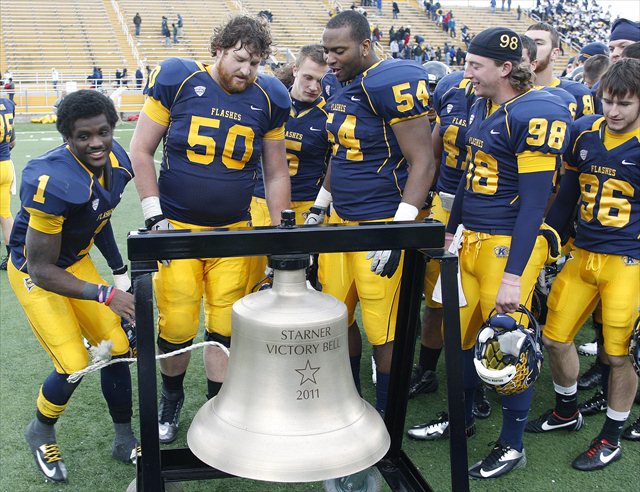 Kent State rings the victory bell after beating Ohio. (US Presswire)
KENT STATE WON: Before this season, the Golden Flashes had never even been bowling as an FBS team, so that should tell you what an accomplishment it was to wrap up an 11-win regular season with Friday's methodical home victory against preseason MAC favorite Ohio. Kent State entered the game No. 1 in the nation in turnovers forced and showed why in the first quarter. The Flashes returned a Beau Blankenship fumble 50 yards for one touchdown and an interception of Tyler Tettleton 33 yards for another, giving the Flashes a 21-0 lead after nine minutes. Kent all-purpose All-America candidate Dri Archer finished with 53 yards rushing and 58 receiving on only 15 touches. 
WHY KENT STATE WON: To be fair to the Bobcats, their injury-gutted offensive line -- missing three starters by the end of the game -- was always going to struggle against a Kent State defensive line featuring the likes of Roosevelt Nix. But unlike the Flashes' win the previous Saturday, where Archer's and Nix's brilliance did the heavy lifting, the victory over Ohio was due primarily to the excellence of the Flashes' entire defensive unit -- one that entered the season with the potential to be the MAC's best and has fulfilled that promise and then some. Linebacker C.J. Malauulu was everywhere, including on the first-quarter pick-six; Nix and the rest of the Flashes' defensive line punished the Bobcats' offensive line woes appropriately; and safety Luke Wollet and corner Darius Polk gave Tettleton next-to-nothing downfield.
Result: a second-half shutout and a 14-6 win for the Flashes' defense over the Ohio offense.
WHEN KENT STATE WON: Spencer Keith's 24-yard touchdown pass to Eric Adeyimi early in the fourth quarter put the Flashes up 22 points and the game out of reach.
WHAT KENT STATE WON: The Flashes won their 11th game of 2012, their 10th in a row, their 12th consecutive MAC contest going back to 2011 -- all for a program that hasn't won 11 games over a two-season span since 1988. If Darell Hazell isn't coaching somewhere else next season, he will be by 2014.
And now on deck: a MAC championship showdown vs. 11-1 Northern Illinois.
WHAT OHIO LOST: The Bobcats lost their fourth game in their last five after a 7-0 start. No one in Athens will look down their nose at what should still be a bowl appearance. But after their preseason expectations, upset of Penn State and national ranking, the injury-hampered fizzle to the season won't sit well with Frank Solich, either.