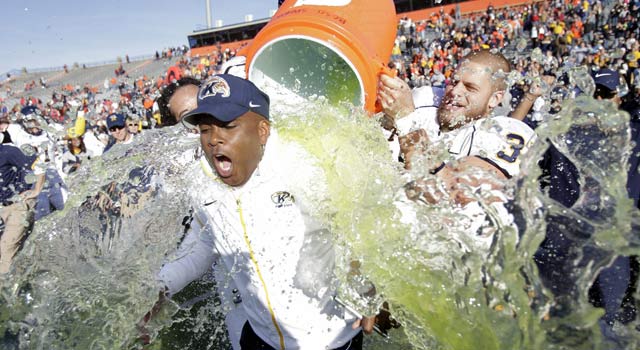 Darrell Hazell's second season at Kent State yields a shot at an unlikely BCS bid.
(AP)
When most college football fans think of the Mid-American Conference, if they think of the Mid-American Conference, it's in the context of nonconference fodder to pad nonconference records and fill seats for an additional home game. At best, the MAC recalls high-scoring diversions on a random Tuesday or Wednesday night. They generally do not think of ranked teams, BCS bowls, or the annual MAC Championship Game as appointment viewing.
But then, there's a first time for everything. This season, for example, is the first time four teams from the MAC have appeared in the top 25 in the same season. Friday night's collision between Kent State and Northern Illinois will be the first time the MAC title game features two ranked teams, or two teams with more than 10 wins apiece. It will be the first time most of the country has had a chance to catch two of the most written-about but little-seen stars in the nation, prolific NIU quarterback Jordan Lynch and electric Kent tailback Dri Archer. And it will certainly be the first time anyone has considered a MAC game a potential play-in for a major bowl game.
As a sign of the expansion-driven times, it will also be the only non-BCS conference whose championship comes down to two teams that are both guaranteed to still be in the same conference in two years.
"[A BCS bowl] would put an exclamation point on what has been a banner year for the conference," said Pete Lembo, in his second year as head coach at Ball State, one of six MAC teams that finished the season with at least eight wins. "We've had some terrific out-of-conference wins against BCS teams. We've had some great competition in our conference. And to cap it off with a potential appearance in a major bowl game would really finish off what has been a spectacular year."
For now, the emphasis is still on potential. BCS rules lay out two possible scenarios for a team from a "mid-major" conference to land in one of the four traditional, nonchampionship bowls:
The champion of Conference USA, the Mid-American Conference, the Mountain West Conference, the Sun Belt Conference, or the Western Athletic Conference will earn an automatic berth in a BCS bowl game if either:

A. Such team is ranked in the top 12 of the final BCS Standings, or,
B. Such team is ranked in the top 16 of the final BCS Standings and its ranking in the final BCS Standings is higher than that of a champion of a conference that has an annual automatic berth in one of the BCS bowls.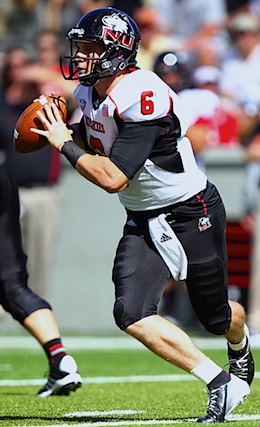 Jordan Lynch has put up huge numbers for Northern Illinois.
Prior to last Saturday, both scenarios were distant afterthoughts: The highest-ranked team from any of the five "Have Not" conferences on Thanksgiving was Boise State, all the way down at No. 22, followed by Kent State at No. 23, both several spots behind Big East frontrunners Rutgers (No. 18) and Louisville (No. 20). But the weekend was a bloodbath for the bottom half of the standings -- the 15th, 16th, 17th, 18th, 19th, 20th, 21st, 24th and 25th-ranked teams all lost, including Rutgers and Louisville -- and when the new rankingswere released on Sunday night, the rankings had parted like the Red Sea for Kent State's ascension to No. 17, within one spot of the magic number. The Golden Flashes' opponent for the MAC title, Northern Illinois, at No. 21, is within plausible striking distance with a win over Kent and the right breaks.
As improbable as it is that the BCS discussion in late November still includes teams that suffered early losses at the hands of Kentucky and Iowa, it's more unlikely that those teams hail from the MAC, which has never had a team in serious contention for a big-money game. Since the BCS lurched into existence in 1998, only three MAC outfits have placed at all in the final BCS standings, and only unbeaten Marshall in 1999 and Ben Roethlisberger-led Miami (Ohio) in 2003 finished in the top 16. Because there were only four BCS games at the time, not five, and the rules were less accommodating to smaller conferences, neither the Thundering Herd nor Red Hawks were regarded as legitimate threats to crash the party.
This time, it's a traditional power -- based on the current standings, probably Oklahoma -- facing the very real possibility of being left out in the cold.
On one side, Kent State arrives on the wave of a 10-game winning streak, already making the 2012 Golden Flashes as the best team in the history of a program that had never won more than nine games in an entire season. Kent State never had beaten a ranked team, either, before going on the road in October for a 35-24 win over unbeaten Rutgers. Kent hasn't won a conference championship or played in a bowl game since 1972, when the team featured two current SEC head coaches, Alabama's Nick Saban and Missouri's Gary Pinkel, under future Washington legend Don James.
In the four decades since James' departure for Seattle, the only coach to leave Kent State with a winning record is Glen Mason, who used a 12-10 record in 1986-87 as a stepping stone to Kansas. In the 25 years since Mason's departure, current coach Darrell Hazell is the first to win more than six games in a season. Friday night, he could double that.
In the red corner, Northern Illinois has emerged under coaches Jerry Kill (now at Minnesota) and Dave Doeren as the gold standard for the rest of the league, having taken 16 straight and 24 of its last 26 games in conference play, and has already clinched 11 wins this season for the third year in a row. But NIU has never finished ranked in the final polls, and never played in a more prestigious postseason game than the Poinsettia Bowl.
"Most MAC fans' attention doesn't peak until the day of the [championship] game. Having said that, it's been noticeable in the readers and comments' tone that, whoa, this could be for real," said Matt Sussman, a Bowling Green alum who operates the MAC-obsessed blog Hustle Belt, and has resolved to enjoy the spotlight while it lasts rather than view it as a measuring stick for the league's progress. "[A BCS game] would instantly become the biggest and most lucrative game in conference history. Will it change hearts and minds? Probably not, especially if they pull a Hawaii and fall flat against a much better team.
"Even leading up to the game you'll have people rolling their eyes at a BCS player [that lost] to Kentucky, or Iowa, and having weak strengths of schedule," Sussman said. "Win or lose, either MAC coach will soon leave for another school, and parity will again rule the land. The only lasting benefit would be the money received from the BCS."
Therein lies a large part of the MAC's success at a moment when literally every other second-tier conference is either scrambling for a larger piece of the pie in the forthcoming playoff structure, or simply scrambling to survive: With its deeper historical and geographical roots, the MAC is largely content with who it is and its place in the pecking order. As a result, the MAC alone feels it can afford to largely sit out the ongoing game of musical chairs without losing ground.
That's certainly not true of any of the other ostensible "Have Not" conferences, whose rosters are in a state of chaos. By 2014, the rest of the Big East lineup will include at least seven schools that have defected from Conference USA since 2004, while retaining a single member that played football in the Big East prior to 2004: Temple, which just returned to the fold this year after being booted in 2005 for all-purpose futility. Conference USA, a relatively young league that has already had to remake itself once, after the last wave of attrition to the Big East nearly a decade ago, has responded to the most recent cull by absorbing no fewer than five schools from the Sun Belt. The Sun Belt, down to just eight future members, is looking to add more just to ensure its own survival.
Out west, the Mountain West lost two its top teams, TCU and Utah, to major conferences, and a third, BYU, to independence; next year, it's scheduled to lose two more when Boise State and San Diego State join the transcontinental Big East. The MWC has made up for the losses by poaching heavily from its progenitor, the WAC, from which fully half of the Mountain West's 2013 membership has defected in the last two years. As for the WAC proper, whose fate was sealed by the failure of its 16-team experiment in the mid-90s, it will stage its last football game Saturday night in San Marcos, Texas, fold up the goal posts and ride into the sunset.
When championships are decided this weekend, it's entirely possible that the Big East (Rutgers and Louisville), Conference USA (Central Florida), the Mountain West (Boise State), the Sun Belt (Middle Tennessee) and the WAC (Utah State) will award top honors to a team bound for a different conference within two years.
The MAC? The MAC is just -- the MAC. Only one current school, Ohio University, was a charter member of the league in 1946, but five others -- Miami (Ohio), Western Michigan, Toledo, Kent State and Bowling Green -- were all on board by 1952. Central Michigan, Eastern Michigan and Ball State are all entering their fifth decade in the MAC after joining in the early 70s. Northern Illinois joined in 1975, left in 1986, and returned in 1997, around the same time as relative newcomers Akron (1992) and Buffalo (1998). Of the current, 13-school lineup, only Massachusetts -- in its first year up from the FCS ranks -- has been in the league less than a decade.
"I don't know if you can ever say never," said Dave Clawson, who just completed his fourth season as head coach at Bowling Green. "But if you look at the landscape, we are probably the most stable conference out there. We have a very compact geographic footprint. There are traditional rivalries. The schools are very similar in nature, they'e all public, land-grant universities. It's a very stable, consistent group. Because of that, people know who we are, and they know who we play."
Clawson also pointed to one of the defining characteristics of the MAC mentioned by Lembo and Stussman: Parity. Since the conference went to a two-division format with a championship game in 1997, seven chools have claimed the conference championship, only one since 2001 (Central Michigan in 2006 and 2007) has won the title in consecutive seasons. Clawson and Lembo both emphasize the similarities in budgets, creating a narrow gap between the Haves and Have Nots that can be bridged. Even the enrollments range from just below 19,000 (Bowling Green) on the low end to just above 29,000 (Akron) at the top. In a sense, the conference is almost operating in a bubble in the current, market-obsessed FBS landscape, one it seems to be in no hurry to break out of.
"My working theory is the MAC has a secret blood oath between all university presidents," Sussman said. "A more reasonable one is that most the schools are in very small rural Midwest towns comfortably detached from large markets, which doesn't make them all that appealing to larger conferences. … I still have an annual concern that someone will leave, because nothing in realignment makes sense anymore, but I have trouble finding a school that makes sense for any other conference. Toledo? Akron? NIU football-only? Once I can't think of a great answer I feel better."