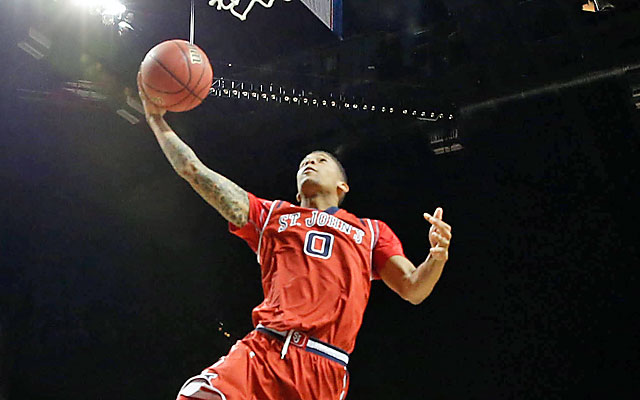 BROOKLYN -- In terms of talent, St. John's can be among the top teams in the Big East. The Red Storm have the athleticism, length and depth to stifle teams defensively and run teams out of the game.
In the first half against Georgia Tech on Saturday, though, none of that was on display. St. John's was borderline dysfunctional on the offensive end, getting bad shots and making sloppy passes. Not coincidentally, the entire game was being played in a half-court setting.
So Steve Lavin turned the switch. The Red Storm head coach put on a full-court press in the second half, and his team ended up forcing 20 turnovers and rolling to a 69-58 victory.
Georgia Tech shot just 28.6 percent in the second half, including a 11:38 drought in which the Yellow Jackets didn't make a field goal.
"Their pressure was good in the second half, and we didn't handle it well," Georgia Tech head coach Brian Gregory said. "Their defensive pressure led to turnovers, which led to transition baskets. They had 20 points off turnovers, that's a big number. It was the difference in the game."
Going forward, we might be seeing more of the full-court pressure St. John's used in the second half. The Red Storm's roster is ideal for that type of system. Sir'Dominic Pointer and JaKarr Sampson aren't great playmakers in the half-court, but their length and ability to guard different positions make them major factors in the press. Chris Obekpa is at times a non-factor offensively, but he's arguably the best shot-blocker in the country and allows the Red Storm to take risks on the defensive end.
Throw in Lavin's seemingly endless supply of guards, and the Johnnies' personnel is certainly conducive to a more up-tempo style.
St. John's can go full-court man-to-man, full-court zone press, or trap in the half-court. Anything to create turnovers and speed the game up. 
"The strength of this team is versatility," Lavin said. "It's the deepest team since I've been here. Today we went with a quicker posse. We'll be a multiple defense team because of our size, quickness and length."
Getting points in transition is a huge boost for St. John's, primarily because it struggles to get open looks in a half-court setting. D'Angelo Harrison is one of the few players on the roster who consistently gets his own shot. Freshman Rysheed Jordan could be another player like that, but he's still getting acclimated to the college game. 
But everyone can make layups. And that's all St. John's seemed to have in the second half. The Red Storm shot 57.1 percent from the floor after halftime, and made 18 free-throws. Attacking the rim and putting Georgia Tech on its heels -- that's what made St. John's successful in the second half.
"Stops and shut-outs lead to run-outs, and for us, the press leads to scoring flurries," Lavin said.
Going forward, we just might see more of that from St. John's.